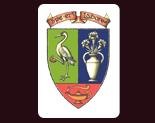 Harris Academy's Talented Teen Cake Designers
I was delighted to be invited to visit Harris Academy in Dundee this morning to see the cakes that their students had made for their National 5 examination in Practical Cake Craft. To say I was impressed is an understatement!  
Unbelievably these cakes were all baked, designed and decorated by 16 and 17 year old students. The level of finish is excellent and their creativity is astonishing  The brief was quite broad - to design and make a celebration cake.  Within that the students had to display a minimum of 5 decorating skills such as crimping, embossing and modelling.  Every cake has a different concept and style and an incredible number of detailed elements.
I take my hat off to the infinitely patient Pamela Maddison and department head Gail Reid who I know have nurtured and inspired these students over many years to such incredible creative achievements. How lucky the kids are to have the opportunity to take such an amazing course and such dedicated teachers to help them achieve these brilliant results!