Free Local Delivery on all orders over £10 During Cornoavirus Lockdown / Free UK Delivery on all UK Orders Over £50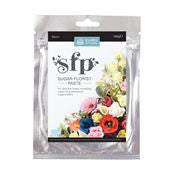 Squires Sugar Florist Paste (SFP) - Black - 100g
$6.00
The country's best selling ready-made sugar flower paste. Ready for immediate use and packed in a re-sealable foil bag.
Can be rolled extremely fine for intricate flower work. Pliable and quick-drying to guarantee excellent results.
Always use opened packets within one month. Keep well sealed and wrapped with cling film to ensure the paste remains at its best. The paste can be frozen if required - simply cut into small pieces, wrap well and put back in the foil bag, then place in the freezer.