Free Local Delivery on all orders over £10 During Cornoavirus Lockdown / Free UK Delivery on all UK Orders Over £50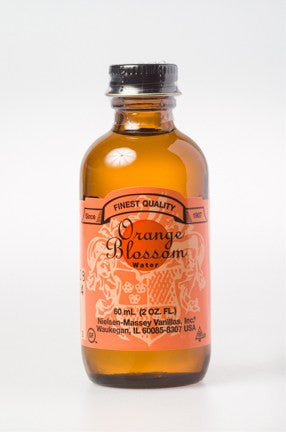 Nielsen Massey Orange Blossom Water
$7.00
We have run out of stock for this item.
This refreshingly aromatic water, also known as the Essential Oil of Neroli, is produced by water distillation of the blossoms of the bitter orange tree (Citrus Aurantium). Familiar to Persian, Arabic, Indian and Turkish cuisine, Orange Blossom Water brings the sweet perfume of the orange grove to a variety of dishes. It is a delicious addition to various sweets including custards and puddings, cakes, cookies, candies and other confections. Its fragrant characteristics also complement chocolate, vanilla, almond, lemon and other citrus flavors.
Available in 2- and 4-ounce bottles. This product is Kosher and Gluten-Free Certified as well as All-Natural, Allergen-Free and GMO-Free.
Ingredients: Propylene Glycol, Alcohol (45%), Orange Oil, Natural Flavors.