Free Local Delivery on all orders over £10 During Cornoavirus Lockdown / Free UK Delivery on all UK Orders Over £50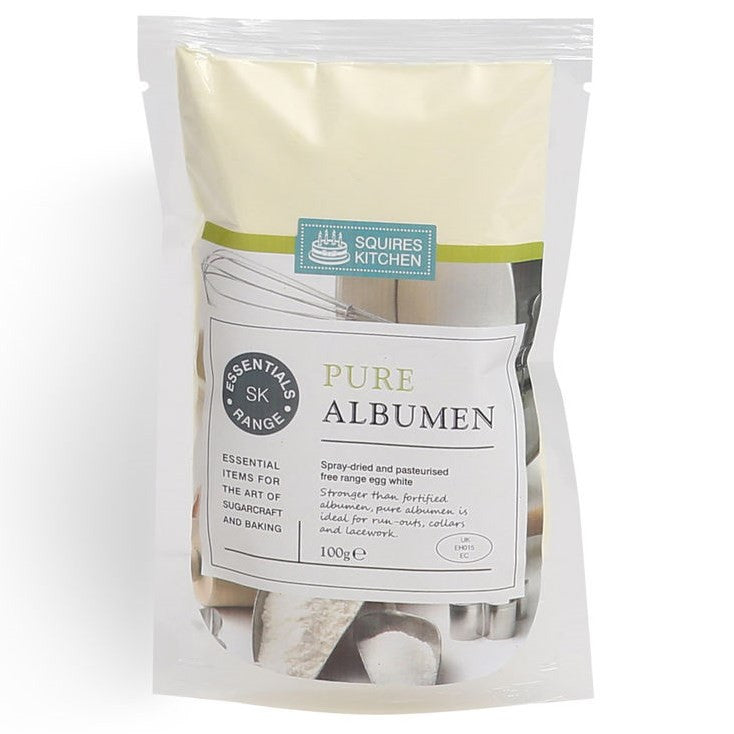 SK Essentials Pure Albumen
$8.00
We have run out of stock for this item.
Squires Kitchen's Pure Albumen is a pure, pasteurised, dried egg white powder made from free-range eggs. 
This high-quality, lump-free, pure albumen is the professionals' choice when making royal icing for run-outs, collars and lace work. Stronger than fortified albumen with more stretch, this pure egg albumen makes a free-flowing icing that is ideal for intricate royal iced decorations.
Storage instructions
Store in a well-sealed container in a cool, dry place away from strong odours to maintain quality
Usage instructions
To dissolve the pure albumen, sprinkle onto water and whisk together lightly. Leave to stand for approximately 30 minutes, stirring frequently so the gelatinous lumps of albumen will dissolve
100g of powder dissolved in 700g of water is the equivalent to 800g of fresh hen egg whites (approx 25 large eggs)
To use for royal icing: Dissolve 15g of albumen in 75ml of water. Gradually add 500g of icing sugar and beat on a low speed for approximately 15 minutes until the icing forms peaks
To use for approximately 40 meringues: Dissolve 20g of albumen in 150ml of water. Whisk on top speed for approximately 2 minutes until stiff. Gradually add 300g of caster sugar, a little at a time, and whisk until very stiff
Ingredients
100% Free Range Spray-dried Egg Albumen
ALLERGY ADVICE: For allergens see ingredients in bold. May contain traces of nuts.
DIETARY GUIDE: No gluten-containing ingredients & Suitable for vegetarians.
Pack size; 100g